Stuffing Waffles with Cranberry Concord Syrup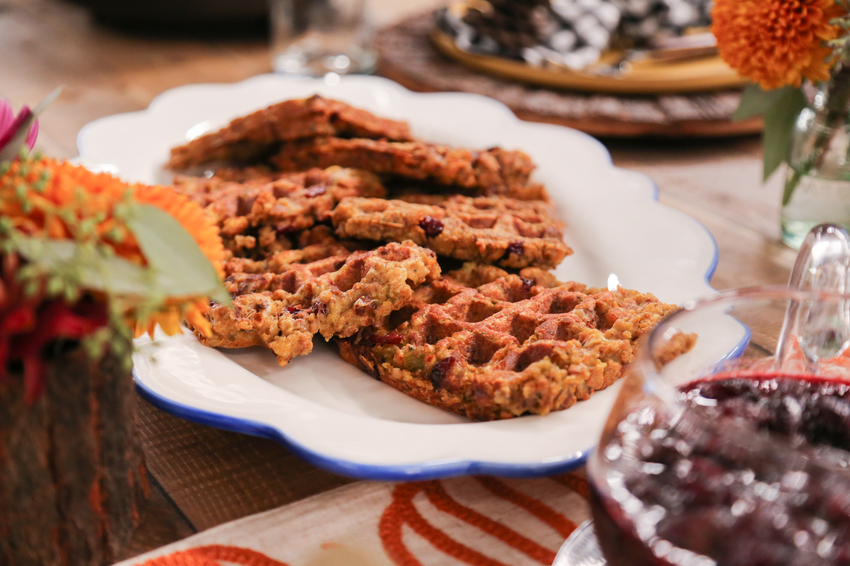 Cranberry Concord Syrup
1. Combine the cranberries, grape jam, grape juice, sugar and orange zest in a medium saucepan over medium-high heat. Bring to a boil, then reduce the heat and simmer, stirring occasionally, until the cranberries are very soft and easily break apart when pushed with a wooden spoon, about 20 minutes. Do not simmer too hard or the sauce may boil over.
Stuffing Waffles
2. Meanwhile, preheat a waffle iron to medium high and spray the top and bottom with cooking spray.
3. Break up the stuffing into small crumbles in a medium bowl, then mix in the milk and eggs.
4. Pack the stuffing mixture evenly into the waffle iron, then close it and cook until golden brown and crisp, about 5 minutes. Transfer to a plate and tent loosely with foil. Repeat with the remaining stuffing mixture.
5. Serve the waffles topped with the warm cranberry concord syrup. Any leftover syrup can be refrigerated for 1 week.
Cranberry-Walnut Stuffing
6. Preheat the oven to 400 degrees F. Lightly butter a 2- to 3-quart glass or ceramic baking dish.
7. In a dry saute pan over medium heat, toast the walnuts until lightly golden brown, about 5 minutes. Cool and chop.
8. Melt the butter in a large skillet over medium-high heat. Add the sausage and cook, breaking up any clumps with a wooden spoon, until brown, about 5 minutes. Reduce the heat to medium and add the celery, onion and 1/2 teaspoon salt and cook, stirring occasionally, until softened, about 8 minutes. Stir in the cranberries and cook to just slightly plump them, about 1 minute, then remove from the heat.
9. In a large mixing bowl, add the stuffing mix, sage, thyme and walnuts. In a large measuring cup, mix together the stock and egg and then add it to the mixing bowl along with the vegetable-sausage mixture. Add 1/2 teaspoon salt and pepper and stir gently to combine thoroughly.
10. Transfer the stuffing mixture to the baking dish and bake until hot and golden brown on top, 30 to 40 minutes.
Cranberry Concord Syrup
1 pound frozen cranberries
1 1/4 cups concord grape jam 
3/4 cup concord grape juice 
1/3 cup sugar 
One 3-inch strip orange zest 
Stuffing Waffles
Nonstick cooking spray, for the waffle iron
4 1/2 cups leftover stuffing, such as Cranberry-Walnut Stuffing, recipe follows
1/3 cup milk 
3 large eggs 
Cranberry-Walnut Stuffing
3 tablespoons unsalted butter, plus more for the baking dish
1 1/2 cups walnuts 
8 ounces sweet Italian sausage, casings removed
2 celery stalks, chopped 
1 medium onion, chopped 
Kosher salt and freshly ground black pepper 
1 cup dried cranberries 
One 14-ounce package cornbread stuffing mix 
1 tablespoon finely chopped fresh sage 
2 teaspoons finely chopped fresh thyme 
2 cups turkey or chicken stock 
1 large egg, lightly beaten 
OTHER RECIPES YOU MIGHT LIKE