Tuna Noodle Casserole with Potato Chip Topping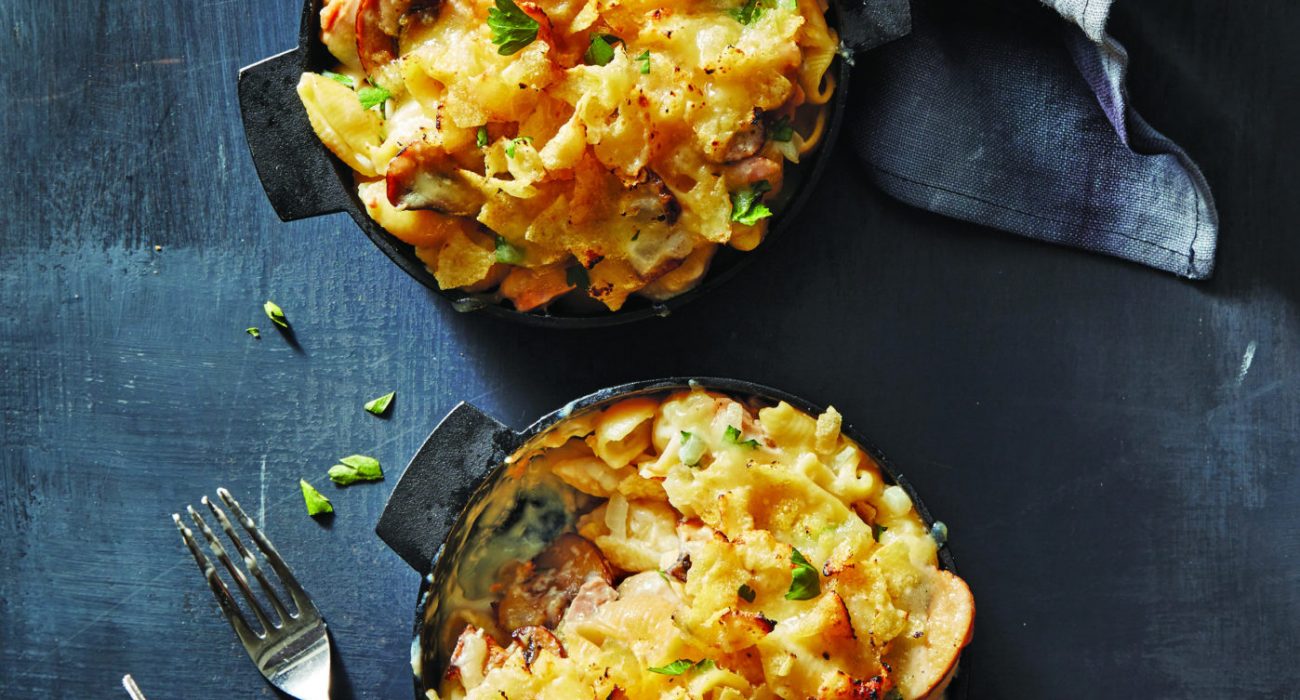 My relationship with the tuna noodle casserole dates back to my student days at Robert Frost Junior High School. I was enrolled in the mandatory "elective" Home Economics, otherwise known as cooking and sewing class for girls (while the guys were in shop or auto repair classes). In this relic from the 1950s, we were taught, among other things, to make tuna noodle casserole. The teacher set the ingredients on the classroom table: a can of tuna, a can of mushroom soup, a bag of egg noodles, cream, and a box of Corn Flakes for the top. She extolled the virtues of leftovers. I proudly made it for my family at home and remember it being fun and tasting pretty good, too. Those days inspired this variation with homemade béchamel (or white sauce), fresh cremini mushrooms, pasta shells versus egg noodles, and salt and vinegar potato chips (or any flavor you prefer) crumbled on top. My version is different enough to feel contemporary without sacrificing any ties to the sturdy original. This is an easy-to-prepare, single-dish meal long on comfort and convenience, and my Home Economics teacher was right: The leftovers are delish.
1. Preheat the oven to 375°F. Grease a 2-quart baking dish with butter.
2. Melt 1/4 cup butter in a large skillet over medium. Add the onion; cook, stirring occasionally, until slightly softened, about 5 minutes. Increase the heat to medium-high, and add the mushrooms and 1/4 teaspoon of the salt. Cook, stirring occasionally, until the mushrooms are golden brown, 8 to 10 minutes. Sprinkle with the flour, and cook, stirring constantly, about 1 minute. Reduce the heat to medium. Gradually add the milk, stirring constantly; stir in the broth. Bring the mixture to a simmer, and cook, stirring constantly, until thickened, about 2 minutes.
3. Cook the pasta in salted water according to the package directions. Drain the pasta, and return to the saucepan. Add the mushroom mixture, tuna, and parsley; stir gently to combine. Sprinkle with the pepper and the remaining 1/2 teaspoon salt.
4. Transfer the pasta mixture to the prepared baking dish. Sprinkle with the cheese and crumbled potato chips. Bake until the top is golden brown and the edges are bubbly, about 25 minutes. Let stand 5 minutes before serving, sprinkled with more parsley.
Depending on what you have on hand, you can also use canned tuna and egg noodles for a more traditional version of this casserole.
1/4 cup salted butter, plus more for greasing dish
1 medium yellow onion, finely chopped
1 (8-ounce) package sliced cremini mushrooms
3/4 teaspoon table salt
1/4 cup all-purpose flour
2 cups whole milk
1 cup chicken broth
8 ounces uncooked medium pasta shells
1 (6.7-ounce) jar Italian tuna in olive oil, drained and flaked
2 tablespoons chopped fresh flat-leaf parsley, plus more for garnish
1/4 teaspoon black pepper
1 cup shredded sharp white Cheddar cheese
1 1/2 cups crumbled salt and vinegar potato chips
OTHER RECIPES YOU MIGHT LIKE