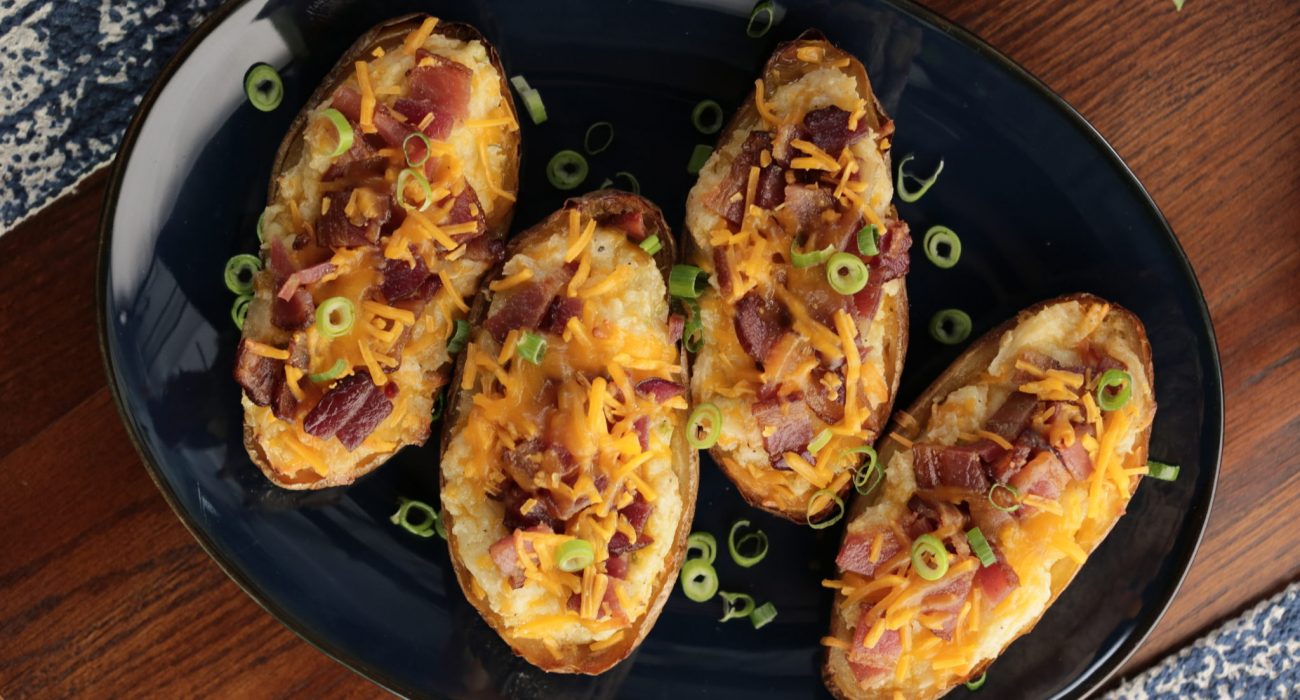 1. Preheat the oven to 425 degrees F.
2. Poke the potatoes all over with a fork. Place the potatoes on a baking sheet and then drizzle with the oil, turning them over to coat completely. Bake until the potatoes offer no resistance when pierced with a paring knife, about 1 hour. Let cool completely (leave the oven on).
3. Cut the potatoes in half lengthwise and scoop out the insides, being careful not to break the skins (it's better to leave a little flesh in the skin than to risk breaking it). Rice the potato flesh into a large bowl and set aside.
4. Stir the milk into the potato flesh along with 2 cups of the Cheddar, and the sour cream, scallions, 1 tablespoon salt, and pepper to taste. Place the potato skins on a baking sheet and divide the potato mixture evenly among them. Top the potatoes with the chopped bacon and the remaining 1 cup Cheddar. Bake until the cheese is melted, the potatoes are completely heated through and the tops are just beginning to brown slightly, 20 minutes more. Garnish with scallions and serve immediately.
These hold really well in the refrigerator for 2 to 3 days and can be reheated in the oven before serving.
6 russet potatoes (about 4 1/2 pounds)
2 tablespoons canola oil
1 1/2 cups milk
3 cups grated extra-sharp Cheddar cheese (12 ounces)
1 cup sour cream
1/4 cup finely chopped scallions (from 4 to 5 scallions), plus more for garnish
Kosher salt and finely ground black pepper
5 slices cooked bacon, roughly chopped (about 1/2 cup)
OTHER RECIPES YOU MIGHT LIKE