Beer Battered Cheese Curds with Homemade Ranch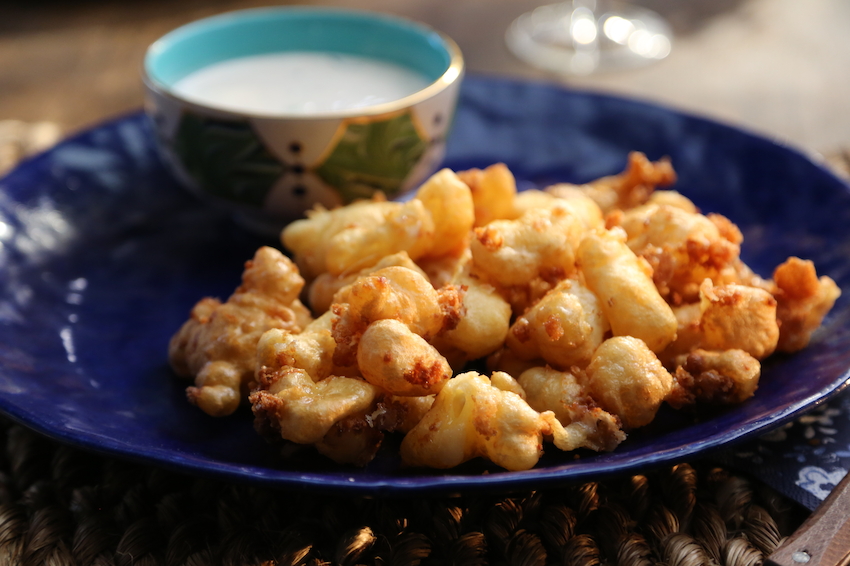 1. Fill a wide, shallow pot with about 1 inch oil and heat to 375 degrees F over medium-high heat. Have a brown paper bag ready for draining the curds. Meanwhile, toss the cheese curds with 1/4 cup flour in a small bowl. Whisk the remaining 3/4 cup flour together with the beer, milk, egg and 1/4 teaspoon salt in another bowl.
2. When the oil is hot, take a handful of the curds, shake off the excess flour, and add them to the batter. Let the excess batter drip off, then add the curds to the oil. Fry until puffed and golden, about 1 minute, then transfer to the paper bag with a strainer or slotted spoon. Repeat with the remaining cheese curds.
3. Serve immediately with the Ranch dressing.
Homemade Ranch
4. Whisk the mayo and buttermilk together with the scallions, parsley, vinegar, onion powder, garlic powder, paprika, a rounded 1/4 teaspoon salt and a generous amount of pepper in a bowl. Transfer to a small serving bowl and refrigerate until ready to serve.
a deep-fry thermometer; a brown paper bag
Vegetable oil, for frying
1 pound cheese curds, broken apart 
1 cup all-purpose flour
1/2 cup lager or other mild beer 
1/4 cup milk 
1 large egg 
Kosher salt 
Homemade Ranch, recipe follows
Homemade Ranch
1/3 cup mayonnaise
1/4 cup buttermilk 
2 scallions, finely chopped 
2 tablespoons chopped fresh parsley 
1 teaspoon white vinegar 
1/2 teaspoon onion powder 
1/4 teaspoon garlic powder 
1/4 teaspoon paprika 
Kosher salt and freshly ground black pepper 
OTHER RECIPES YOU MIGHT LIKE