Kahlua Pork Sliders with Pineapple Ginger Drizzle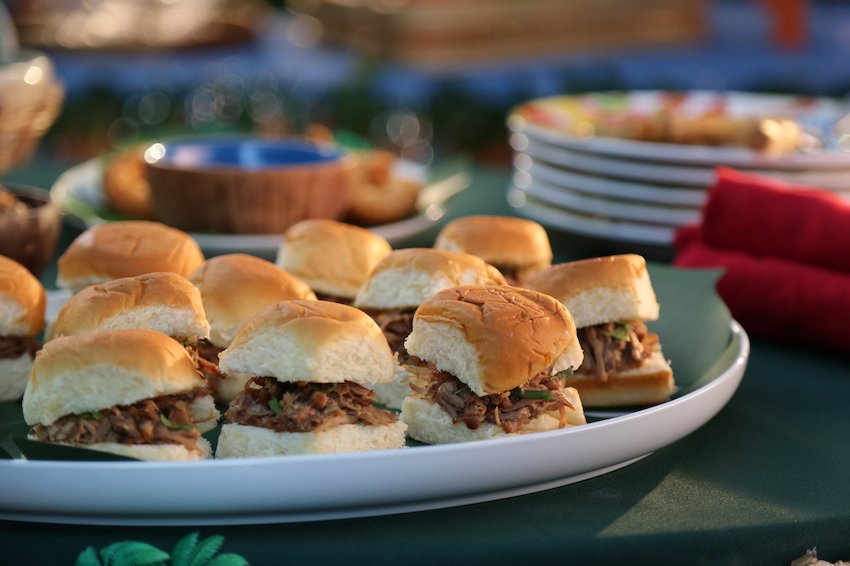 1. Sprinkle the pork shoulder with salt and pepper. Set an Instant Pot® to saute and heat the oil until very hot. Add the pork and brown well on all sides. Add the liquid smoke, 1/2 cup coconut water and 1 tablespoon soy sauce. Lock the lid of the Instant Pot® and set to pressure cook on high; set the time for 45 minutes. When the pork has finished cooking, switch the valve to venting. Carefully unlock the lid. Use two forks to coarsely shred the pork and transfer it to a serving bowl. Reserve 1/4 cup of the braising liquid.
2. Meanwhile, combine the pineapple juice, brown sugar, ginger, garlic, remaining 2 cups coconut water and remaining 1/4 cup soy sauce in a medium saucepan. Bring the mixture to a boil over medium-high heat, then reduce the heat and simmer briskly until flavorful and reduced to about 1 cup, about 25 minutes. Add the reserved 1/4 cup braising liquid to the drizzle.
3. Toss the shredded pork with the drizzle.
4. Add the pork to the bottom rolls, scatter the cilantro over the pork and finish with the top rolls. Cut into sliders and serve.
an Instant Pot® multi-cooker
3 pounds boneless pork shoulder, cut into 3-inch pieces
Kosher salt and freshly ground black pepper 
1 tablespoon vegetable oil 
1 teaspoon liquid smoke 
2 1/2 cups coconut water 
1/4 cup plus 1 tablespoon soy sauce 
12 ounces pineapple juice 
2 tablespoons brown sugar 
1 tablespoon finely grated ginger 
2 garlic cloves, finely grated 
12 Hawaiian rolls 
2 tablespoons fresh cilantro leaves 
OTHER RECIPES YOU MIGHT LIKE