Pimiento Cheese Pinwheels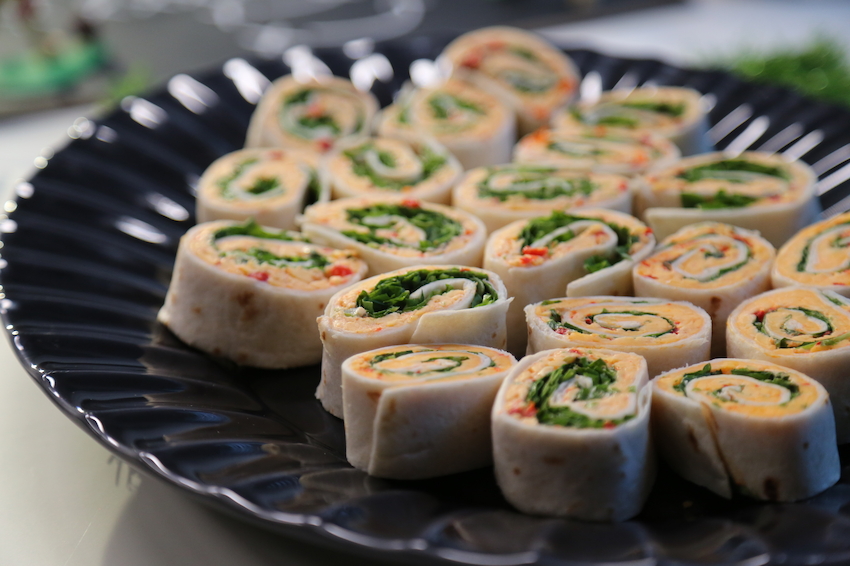 1. Combine the Cheddar, pimientos, cream cheese, mayonnaise, cayenne, scallions and 1/4 teaspoon salt in a large bowl. Use a potato masher to mash the ingredients together to make a cohesive spread.
2. Lay the tortillas out on a work surface and evenly spread one-third of the cheese mixture on each, leaving a 1-inch border along the edge. Top each with 1 1/2 cups of the arugula. Roll the tortillas tightly, tucking the arugula in as you go. Lay the wraps on a platter seam-side down and refrigerate until firm, at least 1 hour.
3. Transfer the wraps to a cutting board. Trim off the edges, then use a serrated knife to carefully cut them into 1-inch rounds. Arrange the pinwheels on a platter and serve immediately or cover with plastic wrap and refrigerate for up to 4 hours.
8 ounces shredded yellow Cheddar
8 ounces chopped pimientos, very well drained 
2 ounces cream cheese 
1/4 cup mayonnaise 
1/4 teaspoon cayenne 
2 scallions, finely chopped 
Kosher salt 
3 burrito-size flour tortillas (10 inches in diameter) 
4 1/2 cups loosely packed arugula 
4-6 servings ( about 24 pinwheels)
1 Hour, 20  Minutes
(includes chilling time)
OTHER RECIPES YOU MIGHT LIKE