Lump Crab Cakes with Cocktail Remoulade Sauce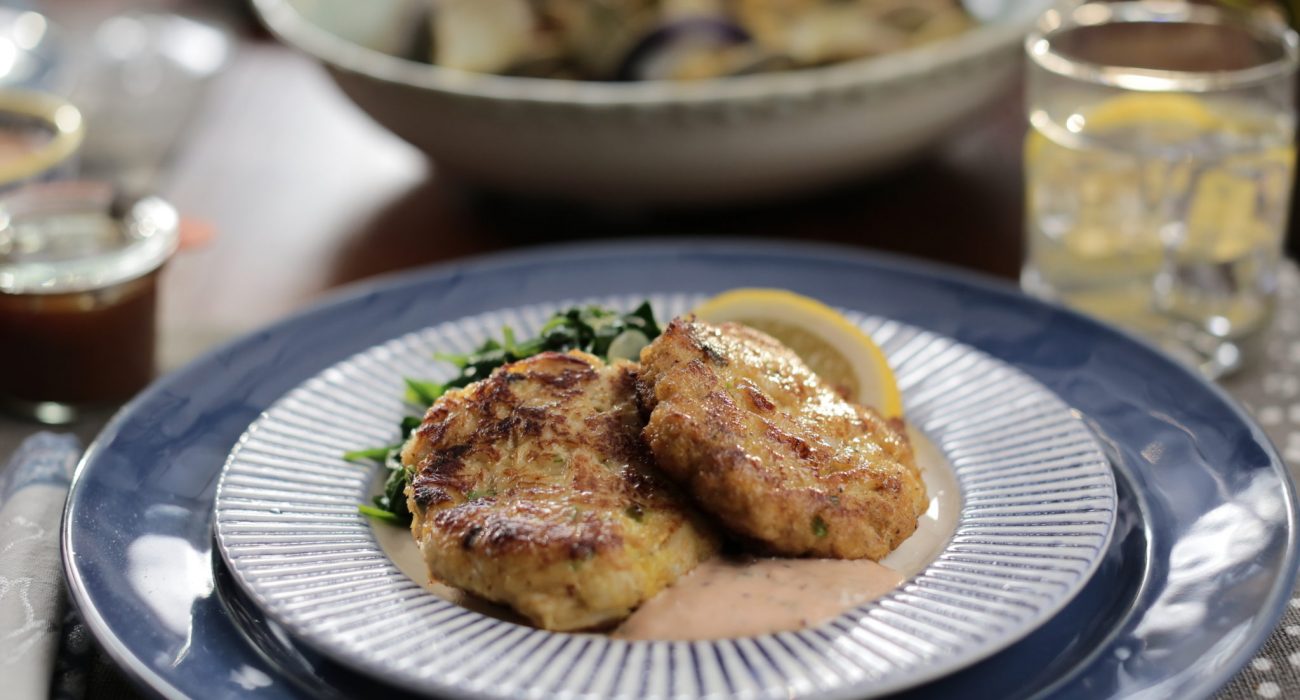 1. Pulse the bread in a food processor to make coarse breadcrumbs; transfer to a large bowl. Add the crab, mayonnaise, green onions, lemon zest, Worcestershire, seafood seasoning, hot sauce, 1/4 teaspoon salt and a few grinds of pepper. Mix gently to combine. Add the egg and mix gently but thoroughly.
2. For the mixture into eight 3-inch-wide crab cakes. Refrigerate for about 30 minutes to set slightly.
3. Melt 3 tablespoons of the butter in a large nonstick skillet over medium heat. Cook the crab cakes, in batches if necessary, turning once, until golden brown on both sides and heated through, about 4 minutes per side. Transfer to a large plate and cover loosely with foil.
4. Melt the remaining 2 tablespoons butter in a large pot over medium heat. Add the garlic and cook, stirring, until fragrant, about 2 minutes. Add the spinach, in batches if necessary, and cook, tossing, until just wilted. Season with salt and pepper.
5. Divide the spinach among four plates and top with the crab cakes. Serve with Cocktail Remoulade and lemon wedges.
6. Cocktail Remoulade: Mix together the mayonnaise, ketchup, horseradish, parsley, mustard, vinegar, capers, green onion and some salt and pepper in a bowl. Cover and refrigerate at least 1 hour. The remoulade keeps, refrigerated, for up to 3 days.
4 slices white sandwich bread, crusts removed
1 pound jumbo lump crabmeat, picked through for bits of shell
1/4 cup mayonnaise
2 green onions, finely chopped
2 teaspoons finely grated lemon zest
1 teaspoon Worcestershire sauce
1 teaspoon seafood seasoning, such as Old Bay
1/4 teaspoon hot sauce, such as Tabasco
Kosher salt and freshly ground black pepper
1 large egg, lightly beaten
5 tablespoons unsalted butter
1 small clove garlic, thinly sliced
1 pound baby spinach
Cocktail Remoulade, for serving, recipe follows
Lemon wedges, for serving
Cocktail Remoulade:
1/3 cup mayonnaise
1/3 cup ketchup
2 tablespoons prepared horseradish
1 tablespoon finely chopped flat-leaf parsley
1 tablespoon whole grain mustard
1 tablespoon white wine vinegar
2 teaspoons finely chopped capers
1 green onion, finely chopped
Kosher salt and freshly ground black pepper
OTHER RECIPES YOU MIGHT LIKE