Spicy Baked Tandoori Wings with Cilantro Raita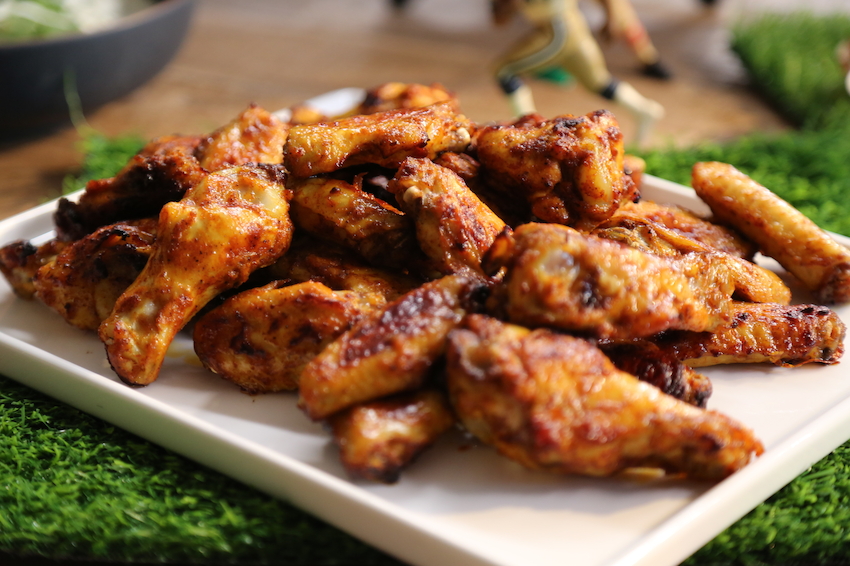 For the wings
1. Heat the oil in a small skillet over medium heat. Add the garam masala, cayenne, paprika, coriander, cumin and turmeric and toast, stirring, until fragrant, about 2 minutes. Add the tomato paste, ginger and garlic, and cook, stirring, about 1 minute. Transfer to a large bowl and stir in the yogurt and 2 teaspoons of salt. Add the chicken wings and toss to coat well. Cover and refrigerate for at least 3 hours and up to 8 hours.
2. Position oven racks in the upper and lower thirds of the oven and preheat the oven to 425 degrees F. Line 2 rimmed baking sheets with foil and then a piece of parchment paper. Lightly oil the parchment paper.
3. Arrange the chicken wings on the prepared baking sheets in a single layer. Bake until golden brown on the underside, about 30 minutes. Flip the wings, switch the position of the baking sheets and continue to bake until crispy and golden brown all over, 15 to 20 minutes more.
4. Whisk together the egg and water; brush the Brie packet with the egg mixture.
For the raita
5. Combine the yogurt, cilantro, lime juice, cucumber and 1/4 teaspoon salt in a small bowl. Chill in the refrigerator at least 30 minutes before serving.
Wings
2 tablespoons vegetable oil, plus more for the baking sheets
1 1/2 tablespoons garam masala 
2 teaspoons cayenne 
2 teaspoons paprika 
1 teaspoon ground coriander 
1/2 teaspoon ground cumin 
1/2 teaspoon ground turmeric 
1 tablespoon tomato paste 
1 teaspoon finely grated ginger 
2 cloves garlic, finely grated 
3/4 cup whole-milk Greek yogurt 
Kosher salt 
3 pounds chicken wingettes and drumettes 
Raita
1 cup whole-milk Greek yogurt
1/2 cup finely chopped fresh cilantro 
2 tablespoons lime juice 
1/2 seedless cucumber, peeled and coarsely grated on a box grater 
Kosher salt 
4 hr 25 min (include chilling time)
OTHER RECIPES YOU MIGHT LIKE