Fried Sticky Hoisin Wings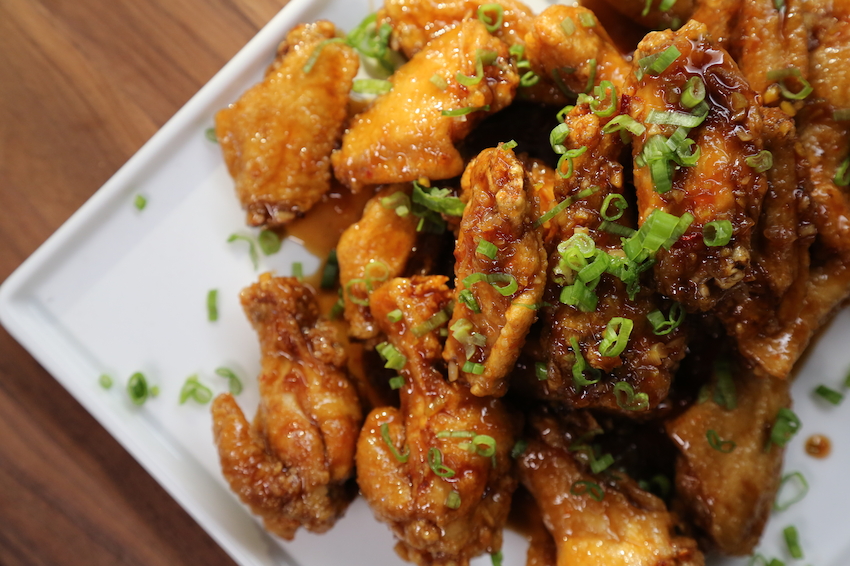 For the wings
1. Fill a large, wide pot with about 1 1/2 inches of oil and bring it to 375 degrees F on a deep-fry thermometer. Toss the chicken wings with the cornstarch and 1/2 teaspoon salt in a large bowl.
2. Fry half of the wings until golden brown and crisp, about 16 minutes, then transfer to a paper towel-lined tray. Bring the oil back up to 375 degrees F and fry the remaining wings.
For the sauce
3. While the wings cook, melt the butter in a small saucepan over medium-high heat. Add the garlic, scallion whites and ginger and cook, stirring, until golden, about 2 minutes. Add the hoisin, honey, soy sauce, vinegar and sambal oelek and bring just to a simmer. Remove from the heat.
4. Put the wings in a large bowl and drizzle with the sauce. Add the scallion greens and toss to coat. Serve immediately.
Wings
Vegetable oil, for deep frying
3 pounds chicken wingettes and drumettes 
1/4 cup cornstarch 
Kosher salt 
Sauce
4 tablespoons unsalted butter
1 clove garlic, minced 
1 bunch scallions (4 to 5), chopped, whites and greens separated
1 teaspoon minced ginger 
1/4 cup hoisin 
1/4 cup honey 
2 tablespoons soy sauce 
1 tablespoon distilled white vinegar 
1 teaspoon sambal oelek or sriracha 
OTHER RECIPES YOU MIGHT LIKE