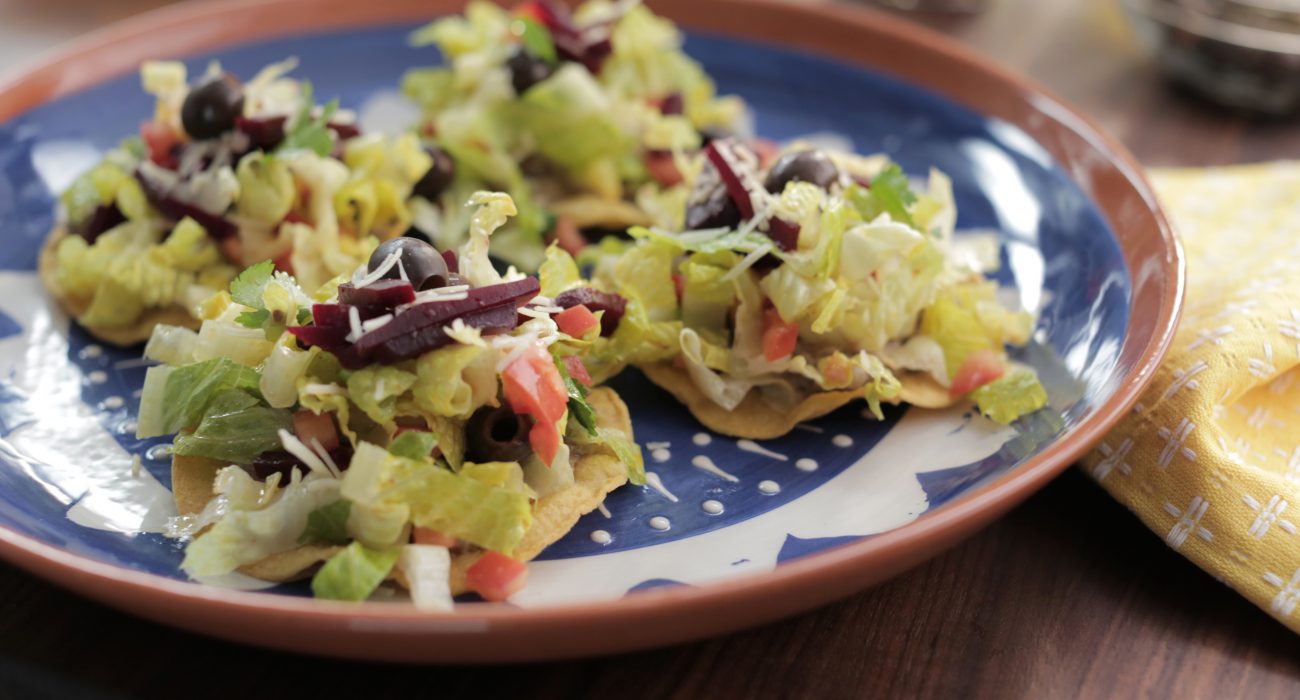 1. Preheat the oven to 400 degrees F. Line a 1/2 sheet tray with foil. Add the tomatoes, poblano, yellow onion and garlic cloves to the sheet tray and coat with canola oil and a sprinkle of salt. Roast in the oven for 15 minutes. After 15 minutes remove the garlic, flip the poblano over and continue to roast the vegetables another 15 minutes. Remove from the oven when the poblano and yellow onion are charred and the tomatoes are soft and the skins are beginning to split. Let cool at least 20 minutes. Peel away the garlic skin and discard. Then remove the skin and stem from the poblano. For a mild sauce you can also remove the poblano seeds.
2. Adjust the oven temperature to 350 degrees F.
3. In a food processor combine the roasted vegetables, cilantro, ground cumin, ground coriander, salt, and red wine vinegar and process until the mixture is evenly combined but still has some texture, similar to crushed canned tomatoes. Pour the mixture into a large saucepot and mix in the tomato puree and chicken stock. Bring to a boil and cook 2-3 minutes just to combine the flavors. Remove from heat and season with salt to taste.
4. Place shredded chicken in a bowl and mix in 2 cups of the enchilada sauce, let the chicken marinate for at least 20 minutes. Taste the chicken and season with salt if needed.
5. Wrap the corn tortillas in foil and place in the oven for 10-15 minutes until softened.
6. Add 2 cups of the enchilada sauce to the bottom of a 9×13-inch baking dish. Remove the tortillas from the oven. Add 1/4 cup of the chicken and enchilada sauce to the center of a tortilla. Wrap the tortilla around the filling; the enchilada should be about the size of a cigar. Place the enchilada seam side down in the baking dish. Nine tortillas will fit snuggly in a row lengthwise in the dish. The remaining six tortillas can be placed in the opposite direction in two rows of three enchiladas. Pour the remaining enchilada sauce evenly over the wrapped tortillas, sprinkle with the shredded Monterey jack cheese and olives and place in the center rack of the oven to bake 20 minutes. When the enchilada sauce just begins to bubble around the edges turn the oven onto broil and cook an additional 2-3 minutes until the cheese has browned in spots. Remove from the oven and let cool 15 minutes. Serve the enchiladas with queso fresco, sour cream, avocado, cilantro leaves and lime.
Enchiladas
4 vine-ripe tomatoes (about 1 1/4 pounds)
1 poblano pepper
1/2 large yellow onion, skin and root removed and halved into wedges
3 cloves garlic, skin on
2 tablespoons canola oil
1/2 cup cilantro leaves (about 1/2 a bunch)
2 teaspoons adobo sauce, from canned chipotles in adobo
1/2 teaspoon ground cumin
1/2 teaspoon ground coriander
1/2 teaspoon kosher salt, plus more to taste
3 tablespoons red wine vinegar
1 28-ounce can tomato puree
1 cup chicken stock
3 cups shredded white chicken meat, from 1 large rotisserie chicken
14 (5 1/2-inch) yellow corn tortillas
2 cups shredded Monterey jack cheese (about 4 ounces)
2 tablespoons sliced black olives
Garnish
1/2 cup crumbled queso fresco
1 cup sour cream
2 avocados, sliced
1⁄2 cup picked cilantro leaves (about 1/2 bunch)
2 limes, cut into wedges
THIS RECIPE HAS A VIDEO
PROVIDED BY THE FOOD NETWORK
OTHER RECIPES YOU MIGHT LIKE