Grilled Summer Vegetables with Avocado-Yogurt Dip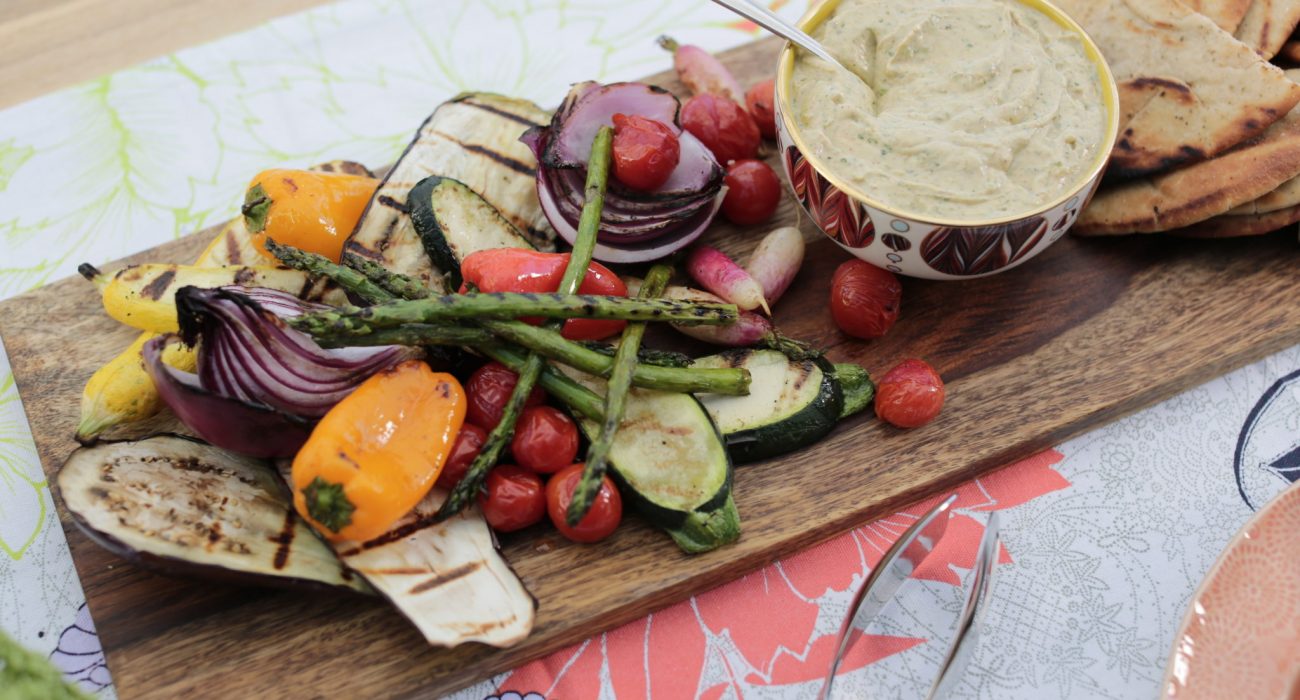 For the dip
1. ​Preheat the oven to 400 degrees F.
2. Trim the top third off the garlic head to expose the cloves. Drizzle with canola oil and sprinkle with salt. Wrap in foil and roast until the bulbs are soft and light golden brown, about 40 minutes. Preheat a grill to medium high.
3. Brush the avocado, jalapeno and scallions lightly with canola oil and place on the grill (the avocado should be flesh-side down). Grill the scallions until charred, 1 to 2 minutes; the avocado until grill-marked and slightly softened, 3 to 4 minutes; and the jalapeno until charred on all sides, 6 to 7 minutes, rotating every 2 minutes. Allow all three to cool slightly.
4. Scoop the avocado flesh into a food processor. Roughly chop the scallions and transfer to the food processor. Halve the jalapeno, scoop out the seeds, and roughly chop. Add half of the jalapeno to the food processor along with 4 cloves of roasted garlic. Add the lime juice, honey, paprika, coriander, cumin, yogurt, cilantro and a pinch of salt. Process until completely smooth. Season with salt to taste. Transfer the dip to a bowl and refrigerate until ready to serve.
For the vegetables:
5. ​Turn all burners on your grill to medium-high.
6. Spread asparagus, peppers, tomatoes, and radishes on one baking sheet. Spread the squash, zucchini and eggplant and red onion on a second baking sheet. Drizzle both with oil, season with salt and toss to coat. Place a grill basket on half of the grill and add the vegetables from the first baking sheet. Cook until charred, 2 to 3 minutes per side for the tomatoes and asparagus (don't let the tomatoes burst), 4 to 5 minutes per side for the peppers and radishes. On the other side of the grill, place the vegetables from the second baking sheet (squash, zucchini, eggplant and red onion). Cook until charred and softened, 2 to 3 minutes per side, plus an extra minute or two per side for the onion.
7. Lightly brush the pita on both sides with canola oil, and sprinkle with za'atar. Grill the pita until charred, 1 to 2 minutes per side. Cool slightly before cutting into 6 wedges each.
8. Arrange the grilled vegetables and pita on a serving platter. Serve with the avocado-yogurt dip garnished with cilantro.
Dip
1 head garlic
Canola oil
Kosher salt
1 large avocado, halved and pitted, skin left on
2 scallions
1 jalapeno pepper
2 tablespoons lime juice (1 to 2 limes)
1 tablespoon honey
1/2 teaspoon smoked paprika
1/2 teaspoon ground coriander
1/2 teaspoon ground cumin
1 cup Greek yogurt
1/4 cup fresh cilantro leaves, plus more for garnish
Vegetables
Canola oil
Kosher salt
8 ounces pencil asparagus, trimmed
8 ounces mini sweet peppers (about 8 peppers)
8 ounces cherry tomatoes
1 bunch radishes, greens removed, halved lengthwise
2 small yellow squash, cut lengthwise into four 1/4-inch planks
2 small zucchini, cut lengthwise into four 1/4-inch planks
1 small Italian eggplant (about 8 ounces), cut in half lengthwise and sliced into 1/4-inch half-moons
1 large red onion, cut into eight wedges, root end intact
Pita
4 pita rounds
Za'atar, for sprinkling
1 Hour, 45 Minutes (including roasting time)
OTHER RECIPES YOU MIGHT LIKE