Tequila Lime Chicken Wings with Spicy Avocado Crema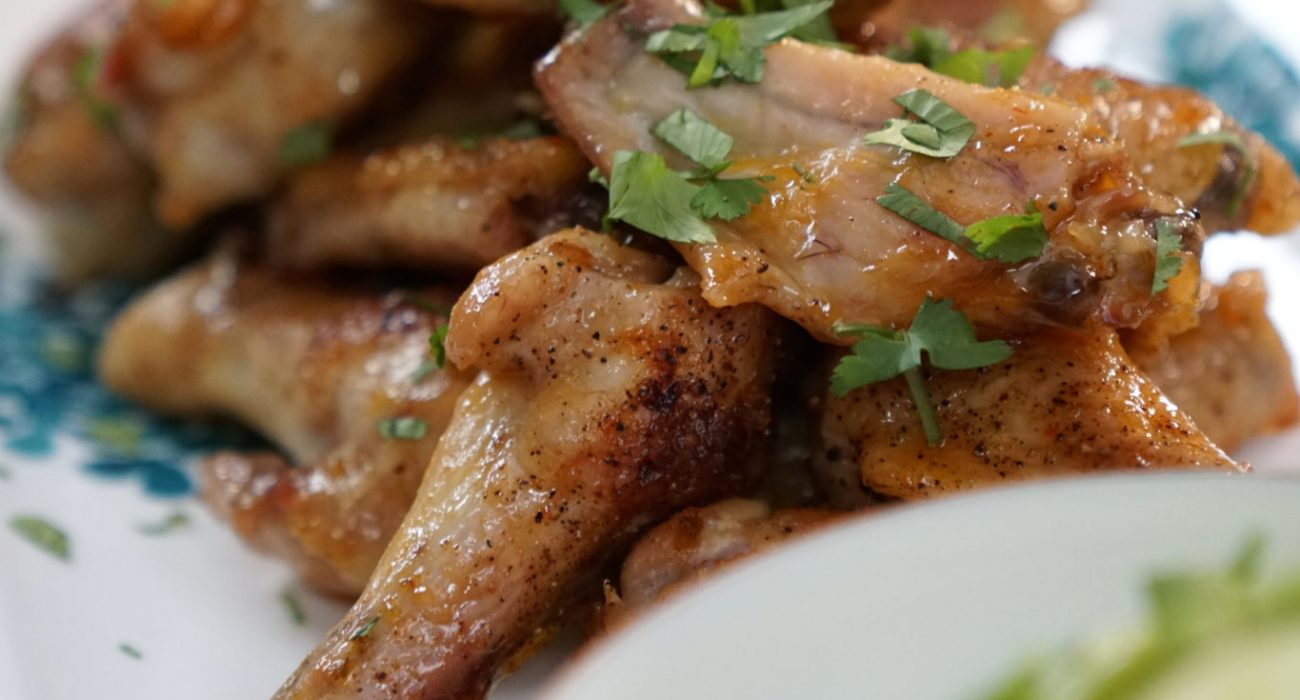 Spicy Avocado Cilantro Crema 
1. Place all the ingredients in the food processor and process until completely smooth. Season with salt to taste. Refrigerate in an airtight container until ready to serve, can be made 1 day in advance.
Tequila Lime Chicken Wings 
2. Place oven rack in the top third of the oven. Preheat oven to 450 degrees F. Line a 1/2 sheet tray with foil.
3. Place the chicken wings on the prepared sheet tray. Toss with 2 tablespoons canola oil, 1 tablespoon kosher salt and ground black pepper. Bake in the oven for 25 minutes, or until the chicken wings just begin to brown and are completely cooked through.
4. While the chicken wings bake, prepare the tequila lime sauce. Heat 1 tablespoon canola oil in a small saucepan over medium heat. Add the red onion, jalapeno and garlic and cook 2 minutes until softened. Season with 1/2 teaspoon salt. Then add the ground cumin and coriander and cook an additional 1 minute, or until the spices have toasted and become fragrant. Add in the tequila, lime juice, chipotle hot sauce, and agave and bring to a boil. Continue to boil the mixture for approximately 5 minutes or until thickened and slightly reduced. Melt in the butter and cook the sauce 1 minute more. Remove from heat.
5. After the chicken wings have baked, turn the oven to the broiler setting and crisp the chicken wings 2-3 minutes per side. Remove from the oven and immediately toss the chicken wings with the tequila lime sauce and garnish with chopped cilantro. Serve immediately with the spicy avocado cilantro crema.
Both the wings and spicy avocado cilantro crema have a medium level of spice. You can decrease the heat level by adding half the amount of jalapeno to both recipes or increase the heat by keeping the seeds in the jalapeno.
Spicy Avocado Cilantro Crema
1 small or 1/2 large ripe avocado (about 3/4 cup cubed avocado)
3/4 cup crema or sour cream (6 ounces)
1/4 cup cilantro, stems and leaves
2 tablespoons lime juice (about 1 lime)
1/2 large jalapeno, seeds and stem removed (about 2 tablespoons minced)
1 1/2 teaspoons chipotle hot sauce
1/2 teaspoon minced garlic (about 1 small garlic clove)
Kosher salt, to taste
Tequila Lime Chicken Wings
2 1/2-pounds chicken wings, drumettes and wings (about 20-22 pieces)
3 tablespoons canola oil, divided
1 tablespoon plus 1/2 teaspoon kosher salt, divided
1/2 teaspoon ground black pepper
3 tablespoons minced red onion (about 1/4 red onion)
1 tablespoon minced jalapeno, seeds removed (about 1/4 large jalapeno)
2 teaspoons minced garlic (about 2 garlic cloves)
1/4 teaspoon ground cumin
1/4 teaspoon ground coriander
1/2 cup tequila blanco
1/4 cup lime juice (about 2-3 limes)
2 tablespoons chipotle hot sauce
1 tablespoon light agave or honey
1 tablespoon unsalted butter
1 tablespoon minced cilantro (for garnish)
25 Wings and 1 cup spicy avocado cilantro crema
OTHER RECIPES YOU MIGHT LIKE